I have Qs for SMM Specialization courses:
How many Peer-graded Assignments are there per course?
Should I have Special Toolkits for courses? Paid or free? Please list them.
Are all additional MOOCs included in the free trial? Hours per courses?
Do MOOCs videos have subtitles? Are these MOOC videos mandatory to pass course?
Do I need any additional software to install? Paid or free? Please list them.
How many Assignments Capstone Project have?
Best answer by Maryam 19 August 2019, 10:02
Hi
@SHM
,
Welcome! I think you are referring to the Social Media Marketing Specialization. No matter what your course is, there is always a syllabus section on the home page of each course. It provides a brief summary of the items in each week if you click "See All". For example, this is the
first course
.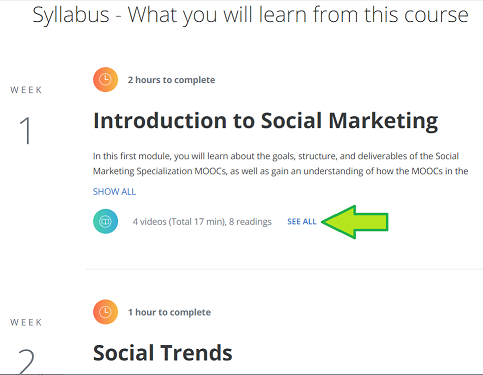 However, since you're looking for more in-depth information, I'd suggest that you enroll in the
audit
mode of Course 1. It allows you to look through the items for free.
To find out about the toolkits, for example, read this section: https://www.coursera.org/learn/what-is-social/supplement/hHAIw/social-marketing-toolkits
Click the
Grades
tab on the left-hand menu to find out how many assignments you're required to do.
On the home page, it's stated that English, Arabic, and Japanese subtitles are available.
Watching the videos is not
mandatory,
but you will definitely need to watch them to learn the topic better. Alternatively, you can read the transcripts.
Then, if this is the right course/Specialization for you and you'd like to get a Certificate, you can either click "Upgrade to submit" on the quiz pages or "Upgrade now for full access" on the course pages. The on-screen instructions will tell you what to do next.
Hope this helps.
View original