Hello,
I had enrolled very first course of Google UX Design using my university email address. I just finished the first one and wanted to keep going but I could not be sure whether I could also enroll the rest 6 courses for free and whether I could get certificate when I am done as I had had from the first one. As a prove, there is this email sent to me saying that I have joined Google UX Design, not a specific course or phase of it. So, I am expecting to enroll all courses covered in Google UX Design for free and to get certificates when I finish. As soon as I am informed I will keep studying.
Thanks!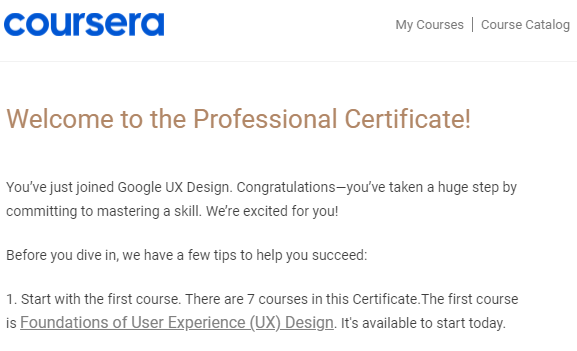 Best answer by salahny 19 July 2021, 20:06
Hi @oguz-yilmaz . welcome to coursera community .
if your university doesn't has a partnership with coursera and you registred with your email adress though coursera for campus you will be eligible for just one course per year , so you have reach the limit but if you have access from your university you can contact your administrator and ask them .
for your certificate you will find all your certificate in your learning program dashboard under the course or you can switch to your coursera normal dashboard and your accomplishments page you will find all the courses you earned on coursera.

you can check this screenshot how to switch to normal coursera dashboard :

also some courses need id verification so make sure your account is verified to earn your certificate : 
if you reach the limit in coursera for campus you can apply for financial aid and get access to the professional certificate you need to apply to each course in this certificate seperately to get full access you can learn more about financial aid here : Apply for Financial Aid or a Scholarship or you can subscribe to coursera plus for a yearly membership or monthly membership you will get access for most coursera catalog .
if you still need assistance you can reach the customer support to help you,  ,make sure you are login to your account after you will find fill out our contact form click on it and submit your email query:: https://learner.coursera.help/hc/en-us/articles/360036160591-Get-Help-with-Coursera .
View original