Hi there,
Where is the "save notes" button... the notes tab is telling me to save my notes but I cannot find how to do that
Thanks
Best answer by Maryam 27 April 2019, 08:24
Hi
@tnowa419
,
Please first press the "Save Note" button which is located just below your video when you're using a browser (in the desktop site mode):

Then, click the "Notes" tab which is located on the right hand side of your screen. You'll see all your saved portions. You can add your own ideas, edit, and delete them by the highlighted options: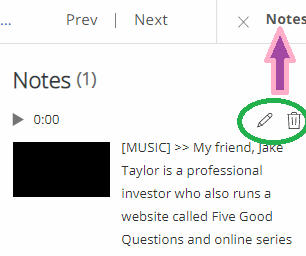 Hope this helps.
View original