You can make edits to your post for up to 1 hour after it's published. So, please make sure you feel good about your post before publishing it!
Here's how to edit: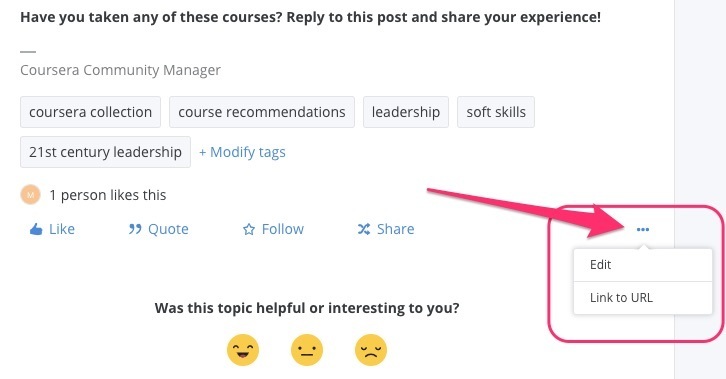 To edit your post within 1 hour of publication, click the three blue dots at the bottom. Then click "Edit."
To preserve the integrity of conversations, it's best not to make any big changes to your post if someone has already replied. If you need to change something, it can be helpful to add a note at the end of your post that explains what you changed. For example, "Edited to add: ___________."
You can't delete your post once you've published it. If you feel it's really important that your post is deleted, please email community-team@coursera.org. Community managers can delete posts for valid reasons. When you email, please explain why it's important that your post be removed.
As a reminder, most of the forums here in the Coursera Community are public. This means anyone can view posts – you don't have to be a community member. Keep this in mind when writing your posts!
Looking for more information? Here are some related tutorials:
How to create a new topic for discussion or ask a question