Hi,
I had my financial aid approved for
IBM Blockchain Foundation for Developers.
Attached is a screenshot for your reference. Yet, when I visited the course's homepage, I was asked to apply for financial aid again or enroll for free audit. Just to make sure that the system got updated, I tried clicking on the options, and the audit version got activated. Could you please look into the matter?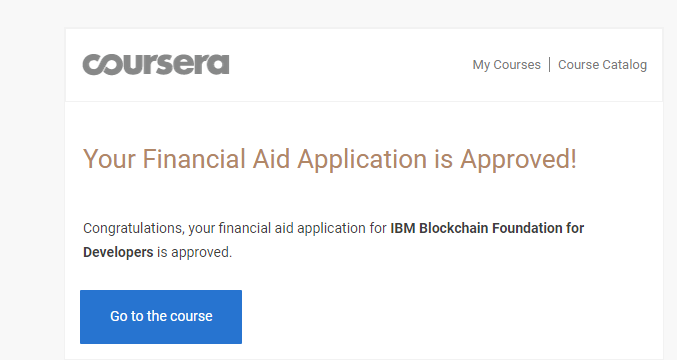 Best answer by Maryam 5 March 2019, 10:34
Hi @ayusha,

I don't think your application was canceled as a result of doing that. According to this Help Article, if "you start a free trial for a subscription that includes the course you applied for Financial Aid in, your application will be canceled".

https://learner.coursera.help/hc/en-us/articles/115003084226-Solve-problems-with-Financial-Aid

However, I recommend contacting the Help Center agents. They are able to look into this for you. Please click this link, log in, select the issue, and send your query.
https://learner.coursera.help/hc/en-us/requests/new?ticket_form_id=120983
You will need to explain that you are unsure whether your application was canceled or not.
View original