Hi! I've known Coursera since 2014 more or less, and I understand that changes were made obver the years.
Now, I've come back interesting in some courses, but I can't find the Audit option. I'm interested in the materials, not just in the Certificate (besides the fact that I can't afford it but I have no plans on asking for financial aid either)
There used to exist the option to Audit for free, but I can't find it now.
Here's the course I'm interested in: https://www.coursera.org/specializations/oss-development-linux-git
I press "Enroll" and I all I see is the 7-day-trial dialog window. It prompts me to put a credit card's info on it, but I'm not interested in that. Not even a 7-day-trial.
I only want to Audit the course.
Anyone can help me?
Thanks in advance
Best answer by Maryam 3 February 2019, 23:24
Hi
@ARomina
,
Nice to meet you! To see the audit option, please follow these steps:
1- Click the title of the course on the home page of this Specialization.
2- You will be taken to the course home page. For example, this is the first course.
https://www.coursera.org/learn/open-source-software-development-methods
3- Now, click the Enroll button. You will see such an option.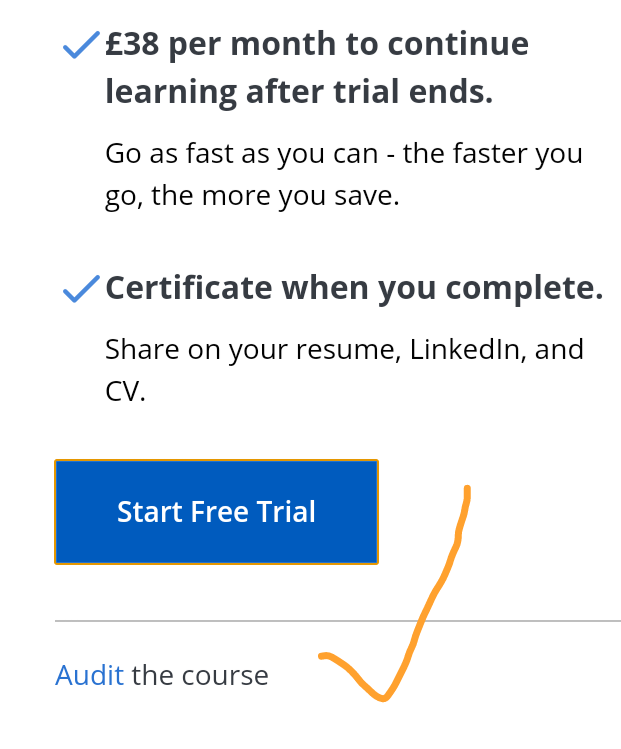 I hope these help.
View original